Tomato Pesto Crostini
Mini Broccoli Cheddar Quiches
Vegetable Hummus Pinwheels
Sweet Potato Black Bean Quesadillas
Kalamata Olive & Mushroom Pizzadillas
Sushi Handrolls with Wasabi Soy Sauce
Cashew Cheeze Balls with Persian Cucumber
Sesame Soba Spring Rolls with Peanut Sauce
Sun Dried Tomato Hummus Cucumber Cups
Asparagus Roll Ups with Cashew Cheeze Sauce
Spanakopita with Roasted Red Pepper Sauce
Spinach Dip with Freshly Baked Sourdough
Mixed Baby Greens with Choice of Dressing
Quinoa Veggie Salad with Arugula
Sesame Soba Salad with Edamame
Mango Lime Tempeh Taco Salad
Citrus Slaw with Creamy Vinaigrette
Sundried Tomato Penne Pasta Salad
Roasted Rosemary Potato Salad
Grilled Tempeh or Tofu Salad
Fettuccine Alfredo with Basil & Fresh Tomato
Spinach & Grilled Vegetable Lasagna
Sundried Tomato Pesto Pasta
Tempeh,Tofu or Seitan Vegetable Fajitas
Fire Roasted Tempeh Enchilada Bake
BBQ Jackfruit Sandwich or Sliders
Cheezy Peasy Macaroni Bake
Vegetable Tempeh Pot Pie
Shepherd's Pie
Seitan Stroganoff
Faux Chikn Piccata with Asparagus
Kung Pao Tempeh or Tofu with Rice
Sesame Shitake Stir-fry with Udon Noodles
Veggie Fried Rice with Tofu or Tempeh Triangles
Three Bean Sweet Potato Jackfruit Chili with Corn Bread
Grilled Polenta with Chipotle Black Beans & Collard Greens
Thyme Crusted Tempeh with White Beans & Garlicky Greens
Ginger Baked Tofu with Savory Coconut Jasmine Rice
Grilled Vegetable Wrap with Creamy White Bean Basil Spread

Quinoa
Brown Rice
Spanish Rice
Jasmine Rice
Garlic Bread
Gluten-free Flatbread
Sweet Potato Cornbread
Creamy Cashew Cheeze Sauce
Baked Tofu/Tempeh Triangles
Garlic Roasted Mashed Potatoes
Gravy (with or without Mushroom)
Garlicky Greens (Kale/Collard/Chard)
Sweet Potatoes with Coconut Nectar Glaze
Mixed Seasonal Veggies, Steamed or Stir-fried
Seasonal Soups and Stews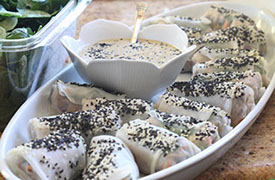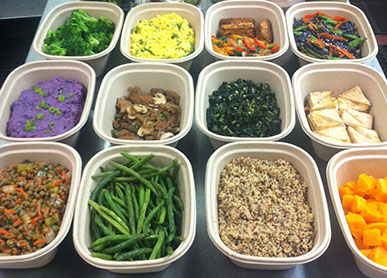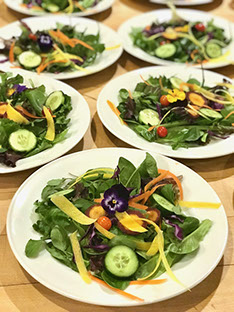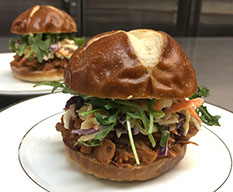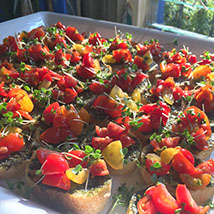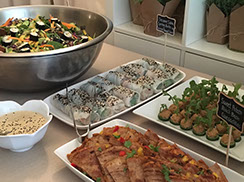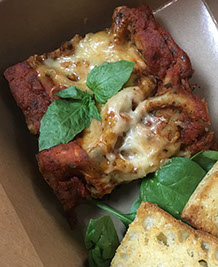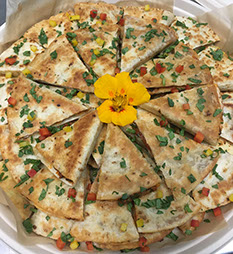 Dark Forest Cherry Chocolate Cake
Toasted Coconut Cake with Chocolate Ganache
Chocolate Cake with Raspberry Chocolate Ganache
Apple Spice Cake with Maple Frosting
Carrot Cake with Lemon Cashew Crème
Mango Coconut Cashew Crisp
Cinnamon Apple Crisp
Peanut Butter Fudgeadelic Swirl Pie
Raspberry Fudge Bites
Peanut Butter Swirl Fudge Bites
Cupcakes or Mini Cupcakes
Cookies & Bars
Lemon Madeleines
Oatmeal Cranberry Chocolate Chip Cookies
Chocolate Chocolate Chip Cookies
Peanut Butter Cookies
Snickerdoodle Cookies
Chocolate Chip Cookies
Gluten Free Oatmeal Cookies
Gluten Free Peanut Butter Cookies
Lady Fingers Dipped in Moonlight
Brown Rice Peanut Butter Crispy Bars
Pecan Turtle Bars
Cookies, Bars, Fudge and Scones are available for mail order.

Tofu Scramble (Plain or with Spinach, Basil, Onion,and Red Pepper)
Mini Quiches (Broccoli Cheddar or Mushroom Red Pepper)
Mini Breakfast Sammies (Tofu-Egg, Cheeze, with Bakin or Sausage)
Pancakes with Wild Berry Syrup
Breakfast Burritos
Breakfast Casserole
Biscuits and Gravy
Roasted Potatoes
Tempeh Hash
Hashbrowns
Tempeh Bakin
3-Grain Porridge
Seasonal Fruit Platter
Coconut Almond Yogurt
Baked Goods
Maple Pecan Scones
Lemon Poppy Seed Scones
Chocolate Chip Scones
Walnut Date Coffee Crumb Cake
Cinnamon Banana Nut Muffins
Blueberry Muffins
Apple Spice Muffins
Lemon Poppy Seed Muffins
Apple Turnovers
Blueberry Galettes
Maple Vanilla Nut Granola
Biscuits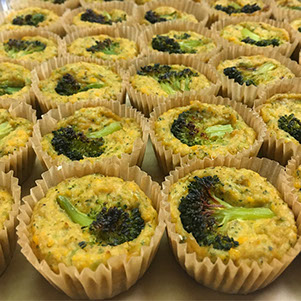 Please let us know of any food allergies or dietary restrictions. We are able to accommodate most needs.
No gluten, no soy, no nuts, no dairy, no oil, no sugar, No Problem!